Make sure this fits by entering your model number.
💕【New upgrade】This DreamQuest brand mini computer fully supports the use of Celeron N5105 (better than J4125) , mini computer,the WiFi module is M.2 2230 interface, dual-band (2.4G/5G) ) uplink and downlink can reach 600Mb/s. Customers can also replace more advanced WiFi modules by themselves after purchase, and can also replace 4G LTE or 5G with special needs, Bluetooth: BT 4.2, HDMI 2.0 support is perfect and powerful, extremely fast, no lag, no job hopping, easy to use!
💕【Small and large Storage Space】mini pc,8GB+128GB, RAM: 8GB LP DDR4X, ROM: 128GB SSD. In addition, DreamQuest has an additional M.2 (2242) (NGFF SATA) and SATA 3.0 (2.5" 7mm), customers can expand SSD or HDD according to their own needs, the larger storage space makes the device run more smoothly!
💕【Advanced Fast Processor】DreamQuest brand mini computer comes pre-installed with Windows 11 Pro operating system, It adopts aviation-grade aluminum alloy and tempered glass top cover, which is durable and beautiful.mini gaming pc, The built-in Celeron processor N5105 (4C/4T, 4M cache, 2.0GHz to 2.9GHz) is powerful and runs very well. Great for online work, office work, surfing the web, online shopping, smoother video watching and mini games. Say goodbye to Caton, it's really smooth!
💕【Unique Thermal Design】This DreamQuest mini PC uses silent fans and heat conduction to dissipate heat. This combination is perfect for keeping your mini PC running quietly while reducing noise levels. mini computers,The ultra-thin body saves space whether it is placed on a desktop or hung behind a monitor. DreamQuest can be cold at work, our mini runs smoother in the cool state and doesn't freeze!
💕【Reliable Lifetime Service】We provide lifetime technical support, 1 year free warranty, 7 days/24 hours service, no need to worry about quality.Mini PC Windows 11 pro, If you have any questions, please feel free to contact us via Amazon.
With this DreamQuest Mini PC, to Enjoy a Better Life From This Moment
We Are Developing and Manufacturing of Convenient and Functional Mini PC
There are 3 reasons to choose our DreamQuest Mini PC:
1. High-speed Transmission, at least 4 times faster than ordinary HDD, comes with Intel Celeron N5105 High-Speed processor which is a Fast and Smooth and Power-Saving Computer CPU.Even it is small, but the performance is much better than so many big tower computers.
2. It's extremely small and Fashionable Design, the ultra-thin body saves space whether it is placed on the desktop or hung behind the display. Stylish Design Combining with Metal and LED lights and Smooth Mirror,Placed anywhere is like a Handicraft.
3.Support to connect a variety of Devices---Through HDMI2.0 *3 interface to connect monitor, TV, projector, printer etc. 4 x USB 3.0 Port,1 x Gigabit Ethernet port, 1x 3.5mm earphone jack, 1xTF Card Port, Plus Bluetooth 4.2 and 2.4G+5.0G WiFi.Meet all your life needs!
How activated the windows system?
How to enter the BIOS interface to set?
Press "Del" during boot to enter BIOS
1. Power wake up:
BIOS → Chipset → South Cluster Configuration → Miscellaneous→ Configuration→ Wake on Power → S5
2. Wake on LAN:
BIOS → Chipset → South Cluster Configuration → Miscellaneous →Configuration → Wake on LAN → Enabled
3. Network PXE boot:
BIOS → Advanced → Network Stack Configuration → Network PXE →BOOT → Enabled → IPV4 or IPV6 Settings.
Enjoy DreamQuest Mini PC, Share Every Moment
All of DreamQuest mini pc include Windows key, Windows will be activated after connect internet.
1

1

1
HUNG ON THE BACK TO SAVE SPACE
The compact mini pc allows you to mount it behind your monitor with the included VESA mount, creating a tidy space. No matter where you place it, it will not take up your space.

EASY TO CARRY, LIGHTWEIGHT AND CONVENIENT
DreamQuest has a Aluminum alloy case that helps dissipate CPU heat, reducing CPU temperature. DreamQuest mini PC stands out for its ultra-compact size of 13.9cm x 13.9cm x 3.9cm and its weight of 420grams; you can take it anywhere and easily store it in a backpack. In the world of technology, PCs are no longer the only option for a small or powerful computer. MiniPCs have been growing in popularity since their release a few years ago, and they are a great alternative to a traditional PC.

LARGE FAN TO KEEP COOL THE SYSTEM
DreamQuest mini PC with efficient cooling design, efficient heat dissipation, energy and power saving. Also the DreamQuest will be very cooling when it is working, our mini computer in the cooling status can run more smoothly without any freezing!
This device can handle 4K resolutions at 60Hz with the help of its Intel UHD Graphics
The DreamQuest mini pc is a powerful mini computer that can be used to do anything from watching movies, to playing games. It comes in two versions, DreamQuest mini pc with Intel Celeron Processor N5105 (4M Cache, up to 2.90 GHz) and 8GB of RAM with either 128GB or 256GB storage options. Both models for easy use out of the box!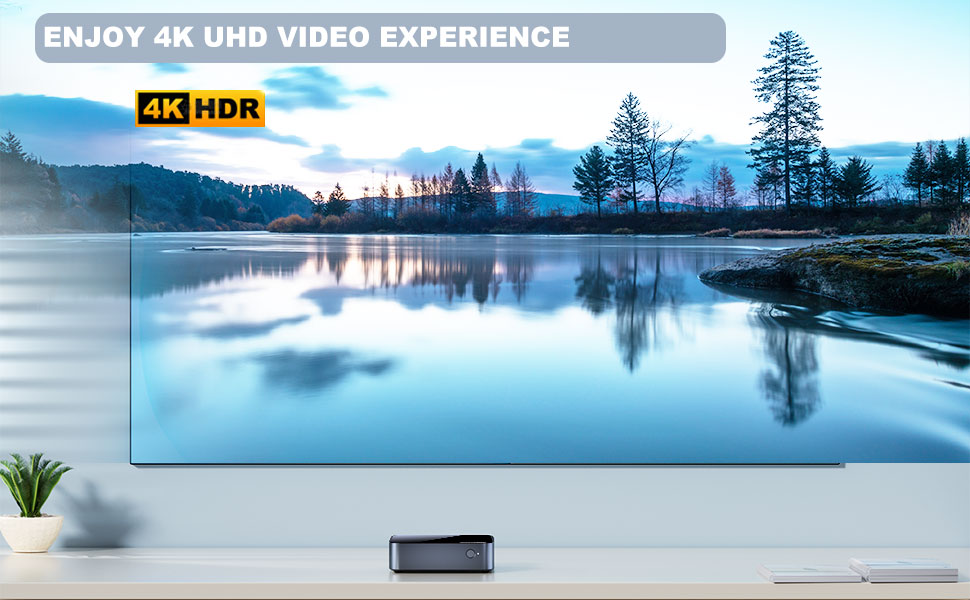 DreamQuest mini pc is the world's smallest wireless PC, it is only the size of a CD box. It can be connected to any display with an HDMI port, and instantly turns that display into a fully functional computer. With the power of a full-sized PC, they can run any software you need with ease, and some can even run video games!
This mini PC is a great way to get your work done. It has the power of an ultrabook, but with the convenience and mobility of a tablet. With its sleek design, it can be used as either a desktop or laptop computer for maximum flexibility.
DreamQuest mini pc is the perfect device for people on-the-go. The compact design allows you to take it anywhere and plug it in with ease. It's a great mini PC for those looking to stream videos, play games, and browse the Internet.
Note:
Installing unofficial systems may cause driver incompatibility or instability. We highly recommended to install the official system.